Thanks for offering to do this for me.  However, my brother has just agreed (less than an hour ago, actually) to take care of it, and I was able to point more stuff out to him.  Will come back to you, though, if things don't pan out with him.

The artist also asked me not to have anyone tamper with her work, so at the very least, the revised version will be only for personal enjoyment.  I did also suggest to her that we create a second edition from scratch probably a few years from now when she does a lot more new pics and refines her skills with fat girls enough to warrant that.
___________________________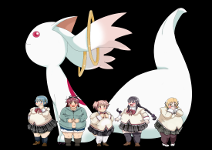 They paid a heavy price...