I wanted to start a topic in which we can discuss every little matter of the show and generally all Madoka-related stuff. I want to focus on details and I'm going to start this discussion by analysing every transformation scene in the show/in movies. It is my goal, but I'm now focused on transformations in third movie - the Rebellion Story. I loved these transformation sequences and they were sooo full of seemingly revelant details~!
So, there is a video showing the sequence. 
Starting with Mami~She appears as the first for she is the leader of the quintet. Her silhouette is yellow and she is apparently ice-skating in this scene, accompanied with yellow decorative flowers - her main motif. She is dancing surrounded by plain, dark background. But then, the background becomes yellow and Mamis silhouette is black- maybe magical powers are enligthing her existence, but it seems Mami herself becomes stained with impure, dark force...Am I overinterpretating? Probably...And then there are three identical Mamis! What is this supposed to mean? And the background is a caleidoscope, without doubt.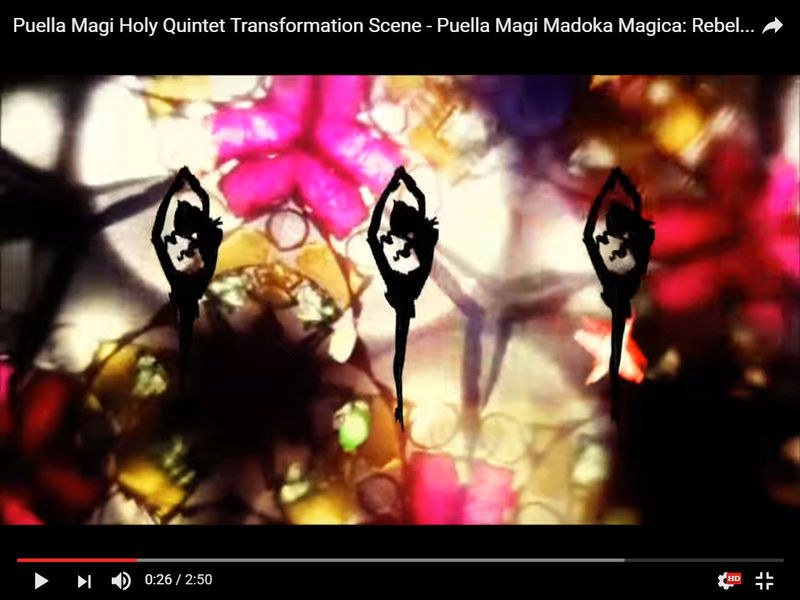 And then Mamis become white and the background is black with yellow flowery pattern and several teapots (Mami loves tea) decorated with brown lace and swan's silhouette within oval shape. Look, these swans have something around their necks!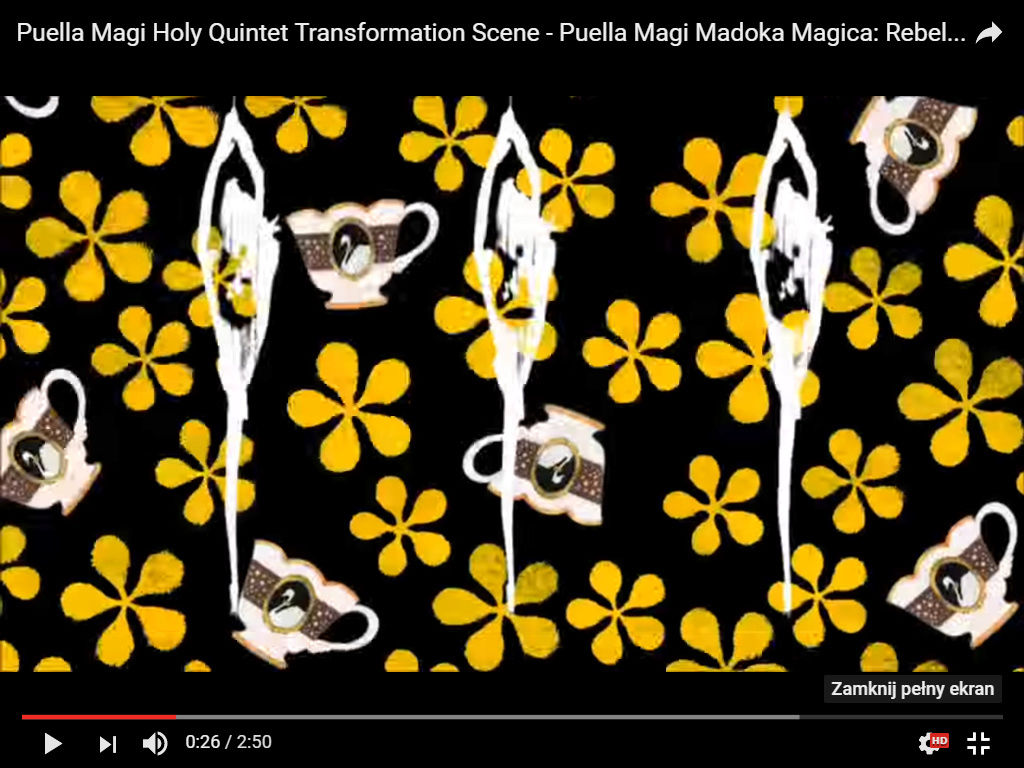 Swans are symbols of grace and beauty but they are also strong and aggressive when protecting their babies.
Then the background becomes yellow with black and white flowers and Mamis are black again.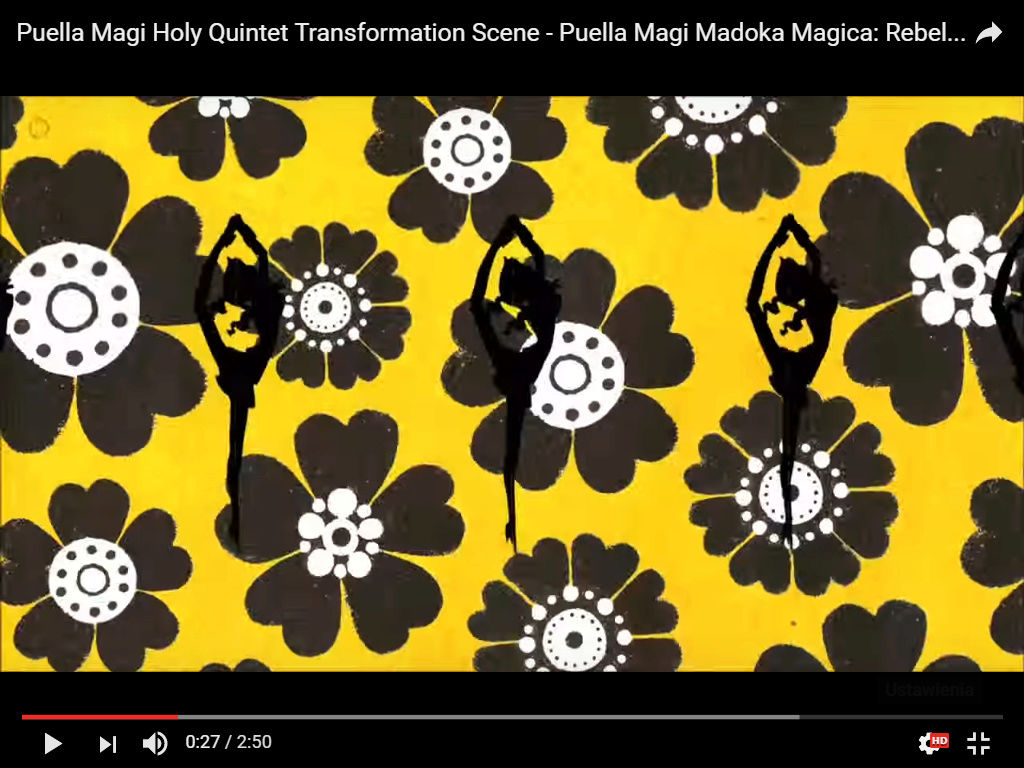 Then, there are only two Mamis and there are two muskeets and name "Mami" written with runes.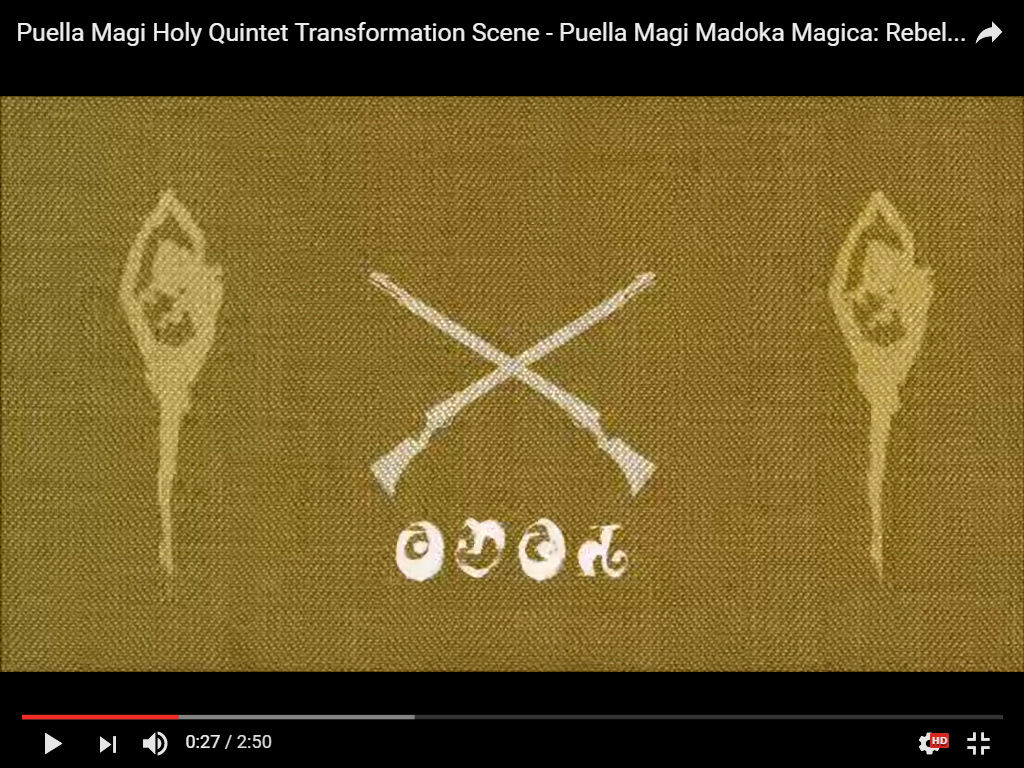 Quite plain, comparing to runes in Homura's sequence.
Then, there is only one Mami, her shillouette is black, but soon it's torn apart into flower petals (?) by the yellow sillhouette inside, and then the yellow sillhouette is torn apart in the same way by the "real" transformed Mami. The "true" Mami appears from under layers of false? Or something else?
Finally, Mami appears, surrounded by luminous flowers, and the background is well...some net? Like in fence...There are some unidentyfied flowers but also red tulips. Red tulips are symbol of ideal and beautiful love. There is a legend that red tulips grew from blood of some man who commited a suicide after his beloved woman was murdered. And what it has to do with Mami? o.O I dunno.
Then Kyouko~
She is holding her Soul Gem in her mouth~And the background is filled with regular round shapes.
Then she is dancing and suddenly she has multiple arms! (precisely 20)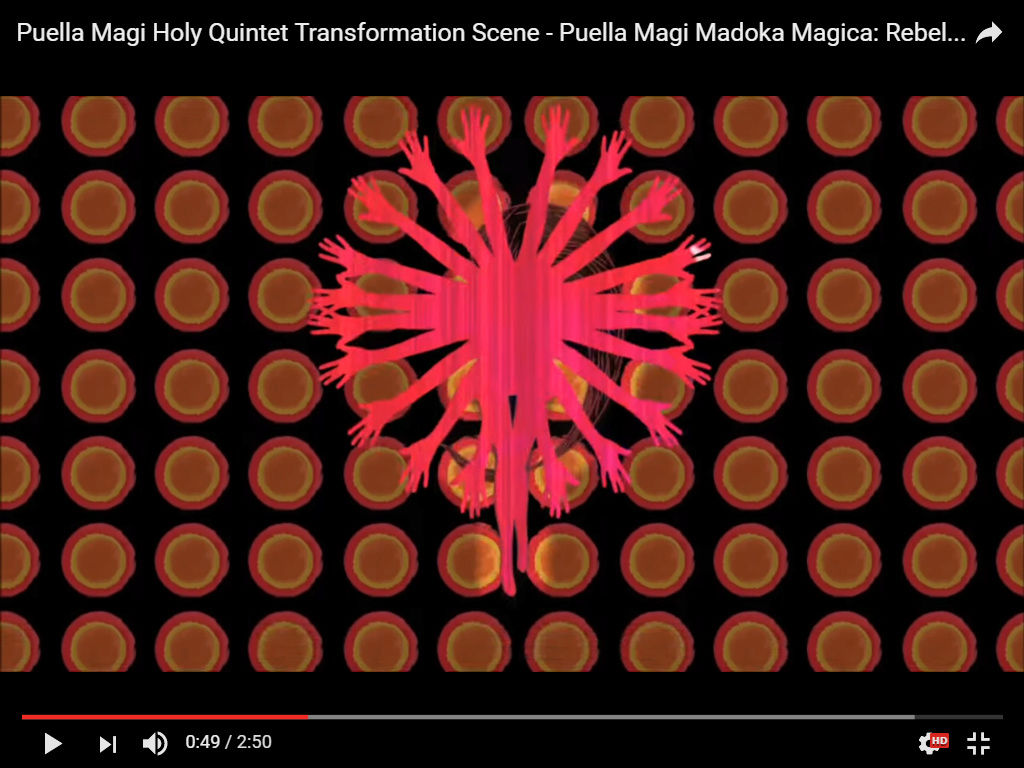 What's the meaning of this? She looks like some hinduistic deity. But Kyouko was daughter of some clergyman or something. Why a hinduistic deity? She is dancing again (now she has only 2 arms), then there are 3 Kyoukos and then even 7 of them! 
She tears the background apart with her hands and then her eyes, with vertical pupils, like a cats...?
Everything is rough, like expressionist painting or like Japanese caligraphy. And then Kyouko's religious symbol appears in multuple copies.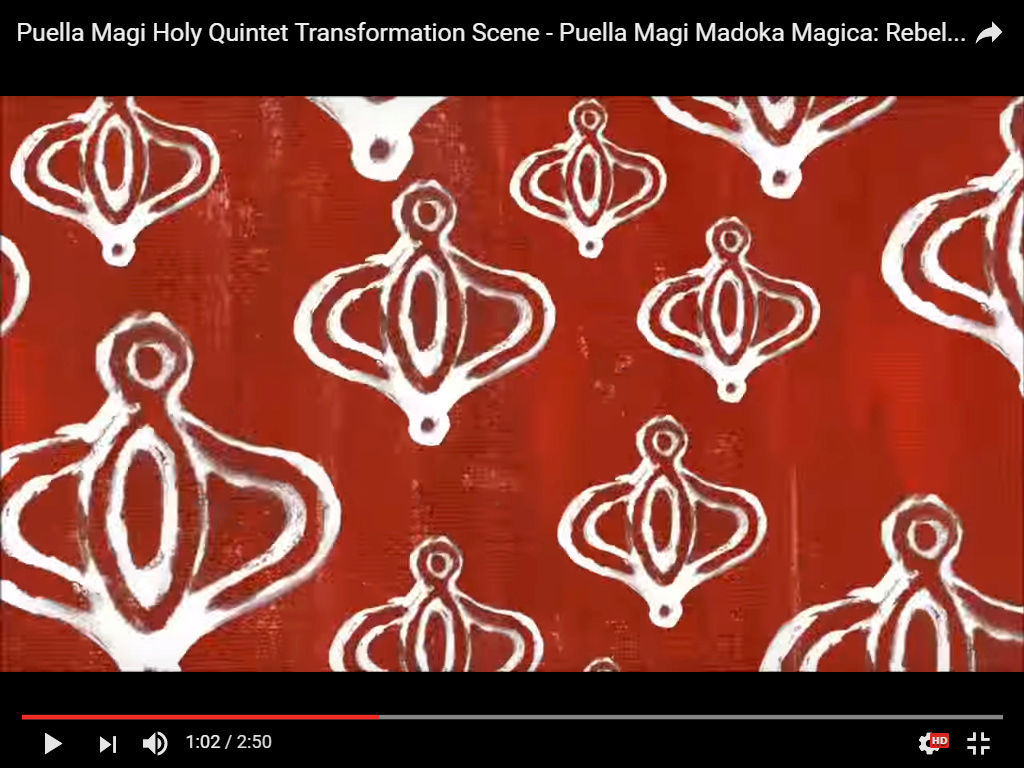 Then finally, transformed Kyouko appears. The background is filled with flowers of many kinds. It's very decorative~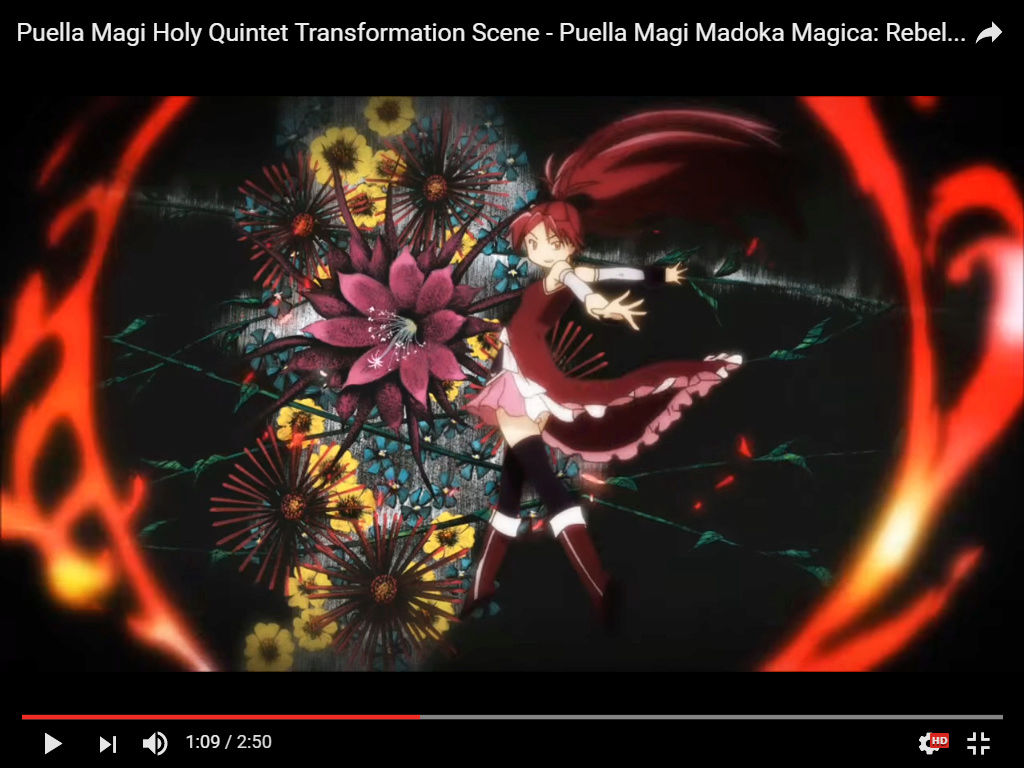 Sayaka is next and the background is black with many round, blue diamond-like gems. Gems are symbol of nobility and diamond symbolises purity and perseverance. Together, diamonds form wave-like shapes (water is Sayaka's main element). Sayaka is throwing her Soul Gem and the she catches it.
Multiple overlying sillhouettes of Sayaka are brakdancing. Some are in different shades of blue, some are dark and filled with colorful lights. Gems become multicolored and scattered.
Sayaka's Soul Gem is 'sent' to her Magical Girl form's hand. Notice: there is a Magical Girl Sayaka's sillhouette and 'civilian' Sayaka's multiple sillhouettes! And they are rainbow.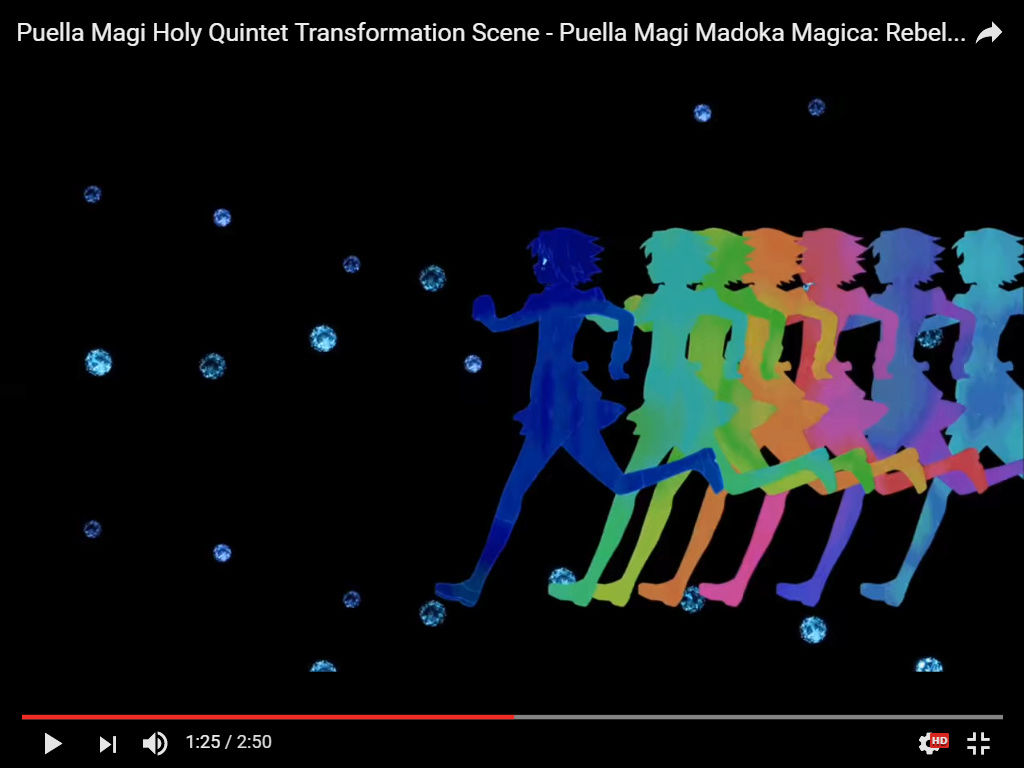 But deep blue Sayaka leaves her colorful copies behind and she crashes with her magical alter ego (deep blue Sayaka and turquoise Sayaka and Magical Girl Sayaka are involved in crash). And then they become like a splash of water...Sayaka is deintegrating!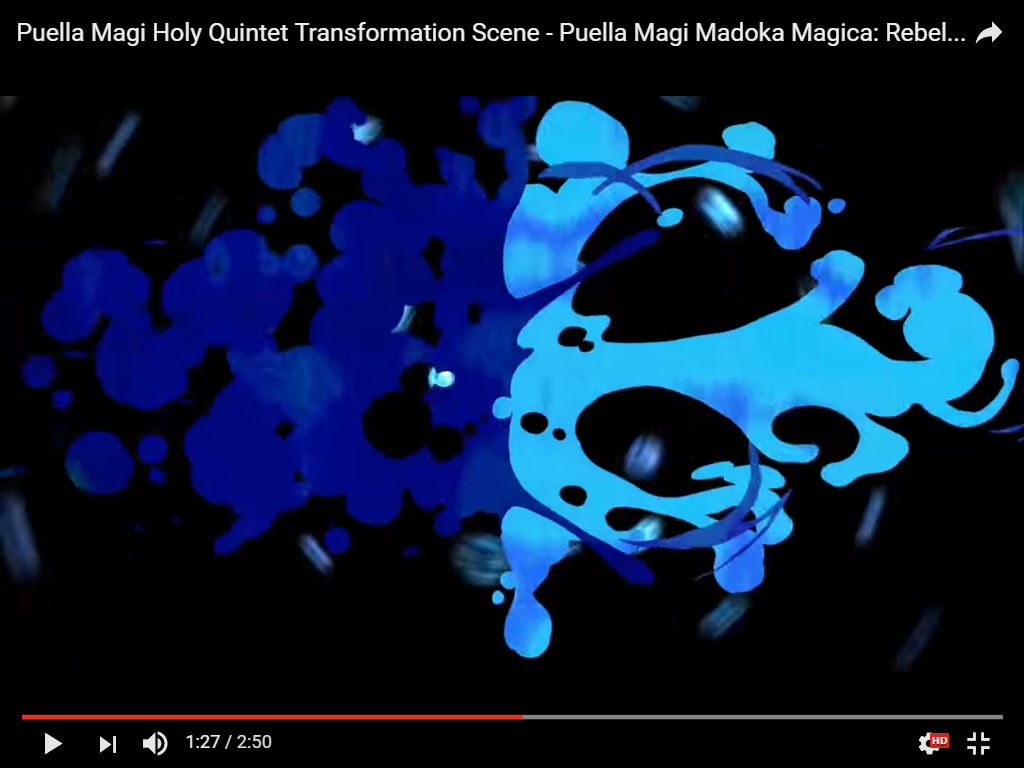 And then, Magical Girl Sayaka emerges from the splash. Transformed Sayaka is born from destruction of "normal" Sayaka~! 
Then a round stave with notes appear as well as Sayaka's name written in runes.
Then, transformed Sayaka somehow "draws" a star (cross?) shape with her hand~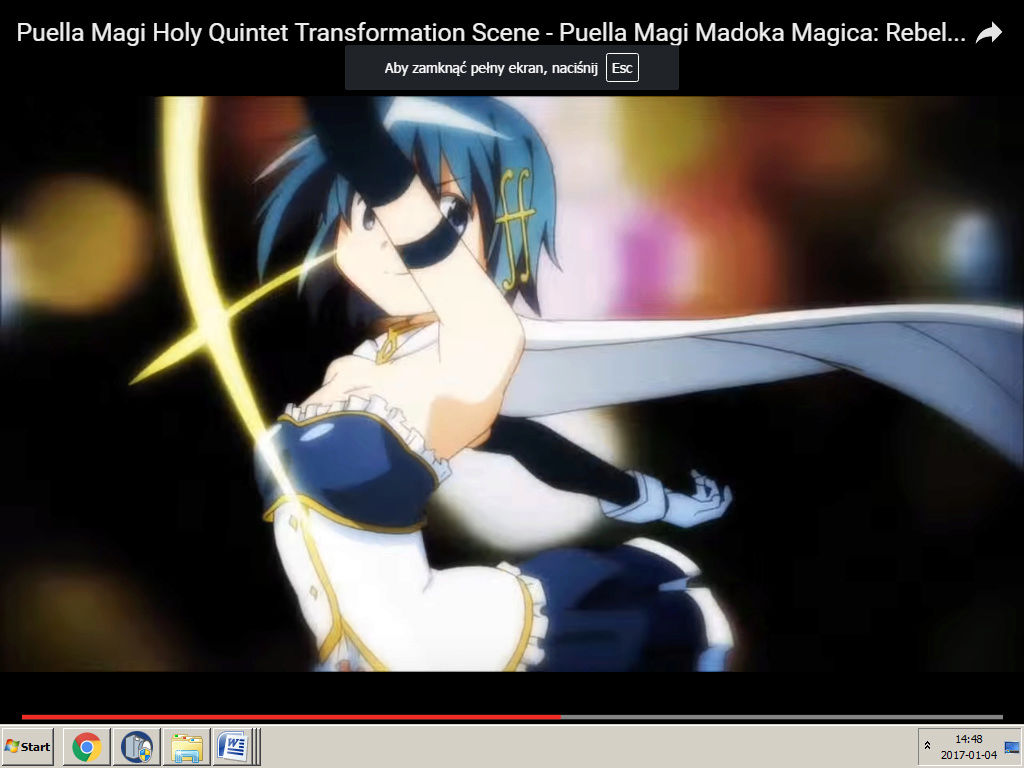 Finally, she is standing among such stars (crosses?) and the background is...rough crystals (there were gems before)? Stones?
Then, Homura is dancing. There are two Homuras - white and purple (good Homura and evil Homura??) and then this appears: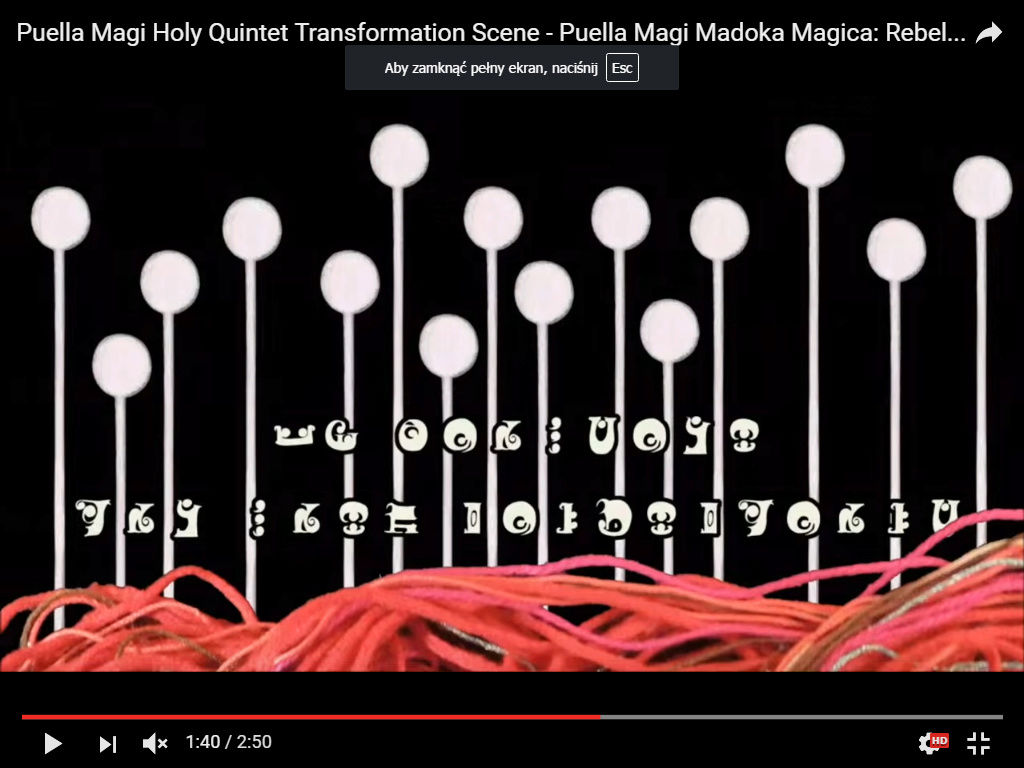 The runes read: 'Zu meistern/Wir sind gelangweilt' It means 'To master/We are bored' in German. Who is 'we'? Who is bored? Clara Dolls? And what is this red stuff? Pasta? 
And she is dancing and then this: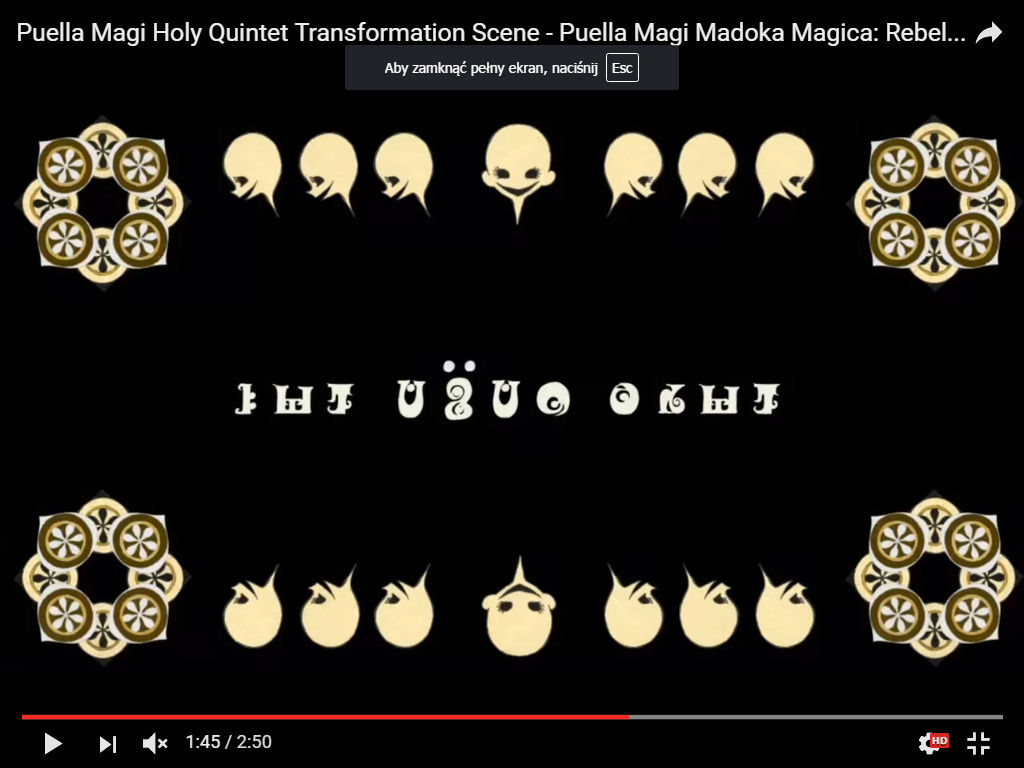 The runes are: 'Lch töte mich'. There is a mistake - it should be 'Ich töte mich' and it means 'I kill myself'. Homura is indeed trying to kill herself in the movie. Are these Claras' heads? 
And then she jumps and background is a film reel...with Homura's sillhouette in every frame. 
Then there is a night landscape (?) with street lamps or something...It's hard to see.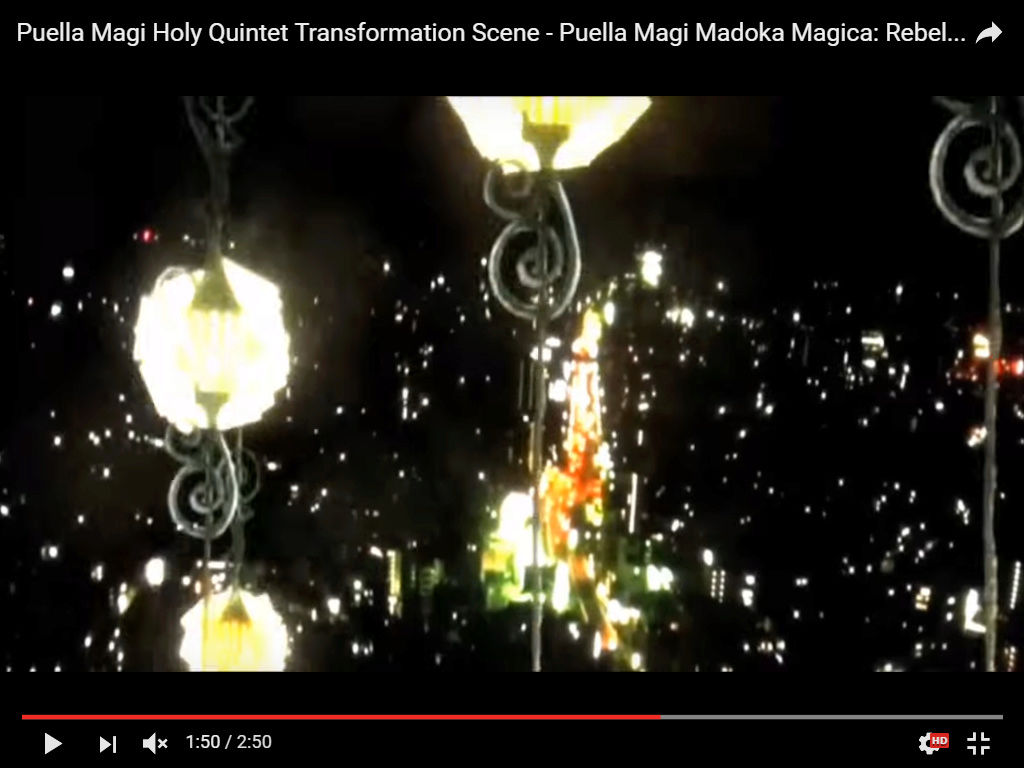 Then the landscape transforms into weird fluid-like sillhouette of Homura. And the real, transformed Homura emerges from this shadow...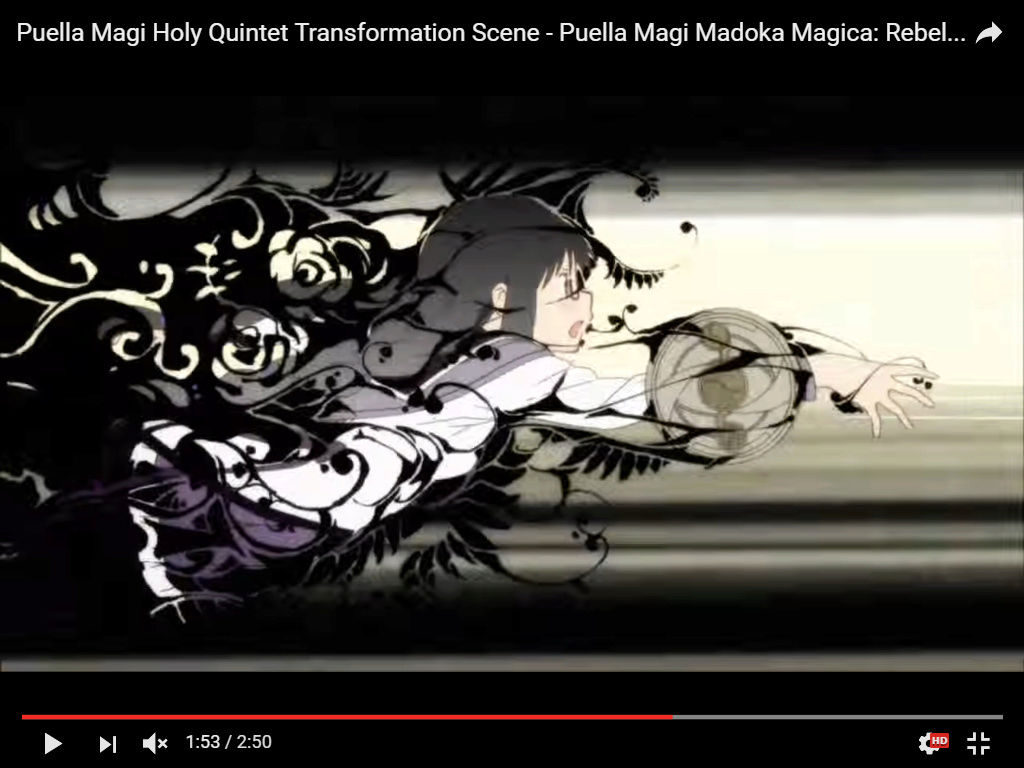 She reaches her hand toward something (Madoka?) and stars (or snow petals) are there...And then there is her Soul Gem and then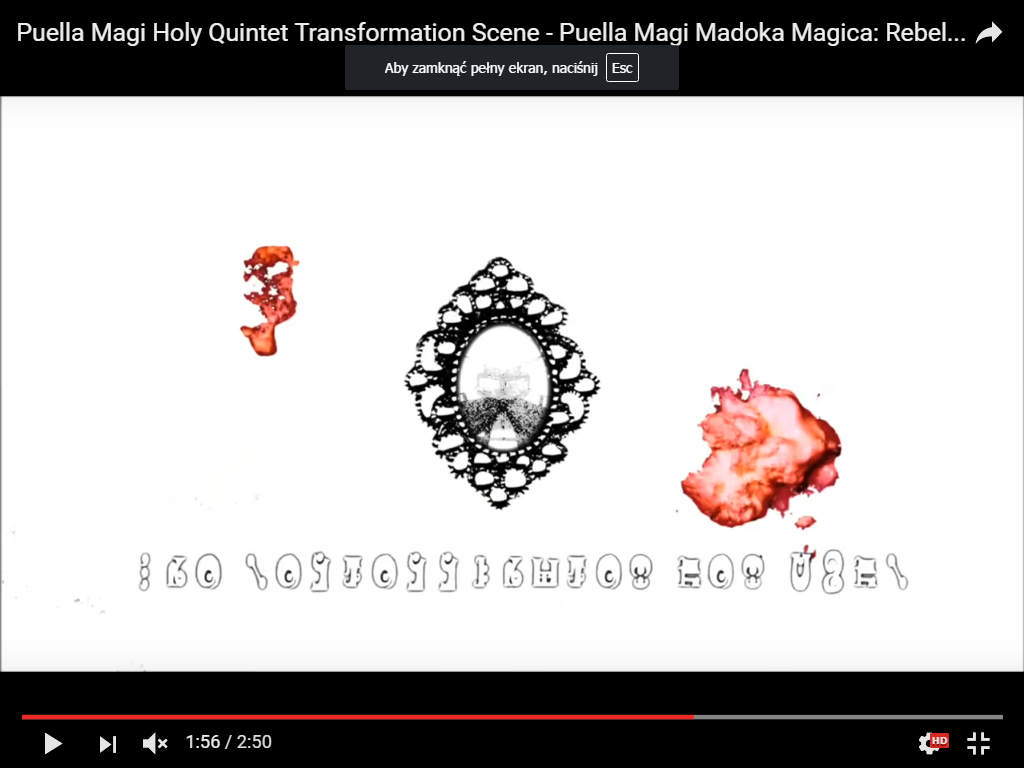 The runes are 'Mie verherrlichen den todv'...It should be 'Mie verherrlichen den tod' - 'They glorify the death'. Who is glorifying? And is this blood?
And then there is transformed Homura surrounded by purple rectangles (together they form two circles or infinity sign...)and background is some clockwork.
And finally Madoka. She is carefully holding her Soul Gem; dancing; background is filled with flowers, four-leaves clovers (symbol of luck) and keys (what symbol is a key? Is something closed? Is something to be opened?) And there are multiple 'Madoka' words written in katakana (one of Japanese writing systems). Madoka's name is usually written in hiragana (some other system) and then, the font here resembles the font Clara Dolls' names were written in production notes...
Then, she puts the Soul Gem on her head (?) and there are 9 Madokas - like in Andy Warhol's portraits (?)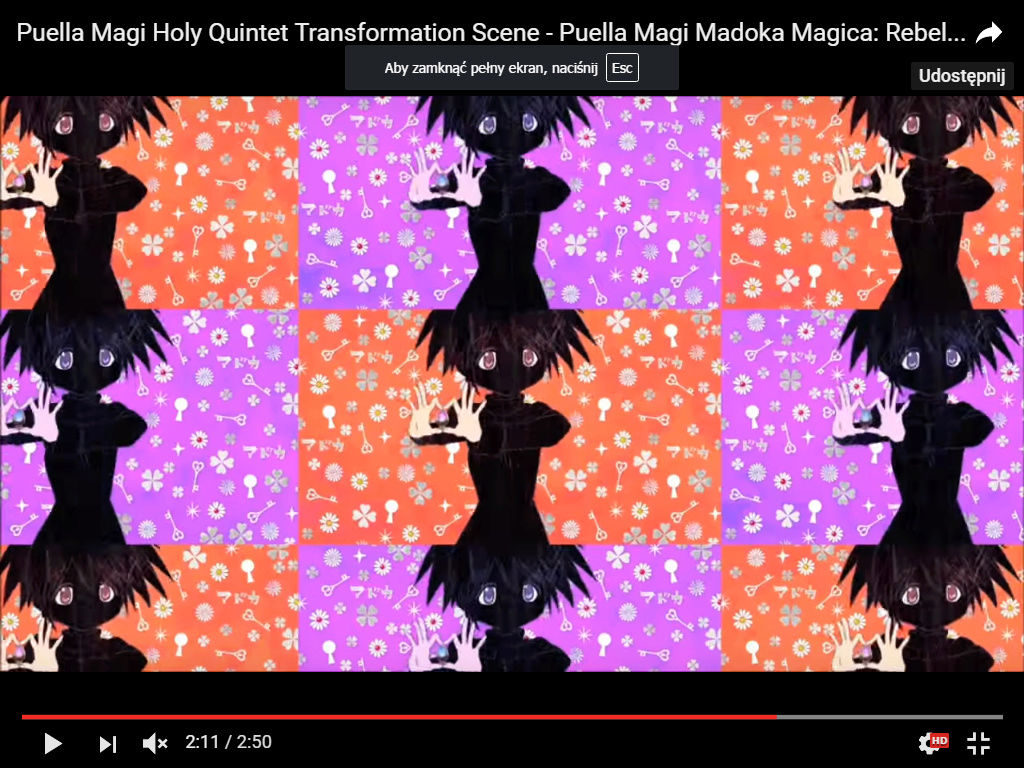 And then there is a big keyhole in the background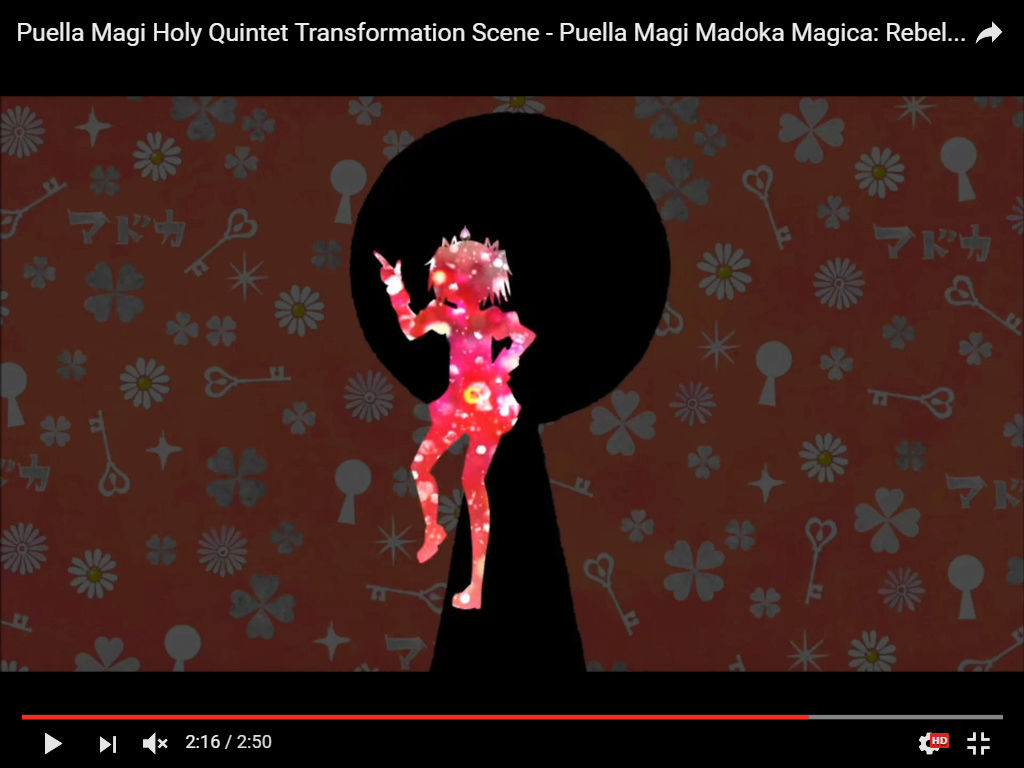 And she is dancing and then she jumps and there are multiple simplified Madokas' sillhouettes on the film reel...
And then, transformed Madoka appears, and she breaks some glass with her hand. And she is looking through her fingers (literally).
Eye within a triangle - it's God's symbol. And finally, smiling transformed Madoka is standing there surrounded by pink hearts (obvious symbol of love) and the background is sky with a rainbow (6-colored like in gay pride flag or whatnot o.O) but rainbow is also a divine symbol of the promise beetwen God and the mankind...
That's enough for now...Does any of you have something else to add here? Please share it with us?