So, I'm commissioning for more Cibus images like in my signature image (full-sized version here), and one of two people I've negotiated with so far has asked me to come up with some expressions and arm positions for each character involved in response to having just been fattened up (presumed without any expectation on their part beforehand to being transformed like that).  That one image was easy enough because it was just five characters, but here, we're dealing with a series of 27 more.

I'm not expecting any one member to come up with some for all of them, but here they are all listed, hyperlinked to their wiki pages (in case their personalities might affect the details of their reaction):

Oriko Magica:

Oriko Mikuni
Kirika Kure
Yuma Chitose
Sasa Yuuki

Kazumi Magica:

Kazumi Subaru
Kaoru Maki
Umika Misaki
Niko Kanna
Satomi Usagi
Saki Asami
Mirai Wakaba

Yuuri Asuka
Ayase/Luca Souju
Remi Shiina
Kanna Hijiri

Suzune Magica:

Tsubaki Mikoto
Arisa Narumi
Haruka Kanade
Chisato Shion
Matsuri Hinata
Kagari Hinata

Tart Magica (clockwise from front):

Jeanne D'Arc
Melissa de Vignolle
Liz Visconti
Eliza Celjska

Other:

Nagisa Momoe
Pia Undo

Again, I don't expect one person to come up with some details for everyone listed.  A few girls from each person reading this would be fine.
___________________________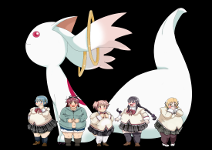 They paid a heavy price...