Actually, forget all the pre-existing spinoff works and characters; why do all these new characters, who were supposedly all designed by Ume Aoki, designed so inconsistently with one another (or might one rather say, diversely)? 

https://wiki.puella-magi.net/Magia_Record_Characters

I know Junko and Kazuko were designed differently from eachother in the original anime, but since Aoki is the one who designed everyone for that, designed all the teenage characters much more consistently, and was also responsible for the same design pattern in Hidamari Sketch, don't you think he'd naturally do the same for anyone else he'd draw?

Or was this to make it less awkward for pre-existing spinoff characters to blend in with everyone?
___________________________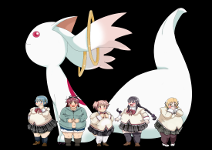 They paid a heavy price...